Common
Trinity
Soul
Heaven
Hell
Satan/Demons
"Saved"
Baptism
Resurrection
Antichrist
History
Mistaken ID
Great Delusion
Chapter 1
Chapter 2
Chapter 3
Chapter 4
Chapter 5
Chapter 6
Chapter 7
Chapter 8
Chapter 9
Chapter 10
Chapter 11
Chapter 12
Chapter 13
Chapter 14
Chapter 15
Chapter 16
Chapter 17
Chapter 18
Chapter 19
Chapter 20
Chapter 21
Chapter 22

Unique
Catholic
Mormon
SDA
JW
British Israel
Church
of Christ
Pentecostal
Islam

Science
Miracles
Evolution
Creation
Carbon Dating

Inspiration
Partial
Contradictions
& Inaccuracies
Chapter 18
The Beast of the Earth
Some time about 800 AD, the Roman world underwent a major change when the Holy Roman Empire was formed, and this is depicted in symbol as the beast of the earth (Revelation 13:11).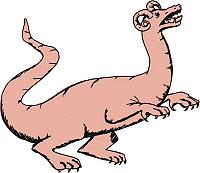 The Holy Roman Empire had two rulers (the two horns), the emperor who ruled the government, and the Pope who ruled the Church. At first they shared the power, but eventually the Papacy took over the political power and the emperor was reduced to a puppet. This take over by the Papacy is represented as "the image of the beast" of the sea because, in effect, the Pope revived the old Roman Imperialism with himself as the emperor. For many years the Pope had control over those who could buy and sell, and he sought the death of anyone who would not worship him. The priests of the Church marked all its members with a cross (the mark of the beast) on their foreheads, and the priests themselves are marked with a cross on their right hands when they are ordained.
The number 666 corresponds to the numerical value of the Greek word "lateinos" which means "the Latin (man)".1 This is the word referred to because Latin not only related to the Roman Empire, but has specific reference to the Roman Catholic Church itself. Latin was the common language of the Roman Empire and was later adopted by the Church as its official language for hundreds of years. Therefore, "lateinos" was an appropriate word to describe the Empire in general, and more especially the Roman Catholic Church itself.
---
Footnote:
1. The Rise and Fall of Rome Papal, pp. 46-47. Horae Apocalypticae, Vol. III, pp. 231-234.